News pr: Hands-On Anterior Indirect Aesthetic Dentistry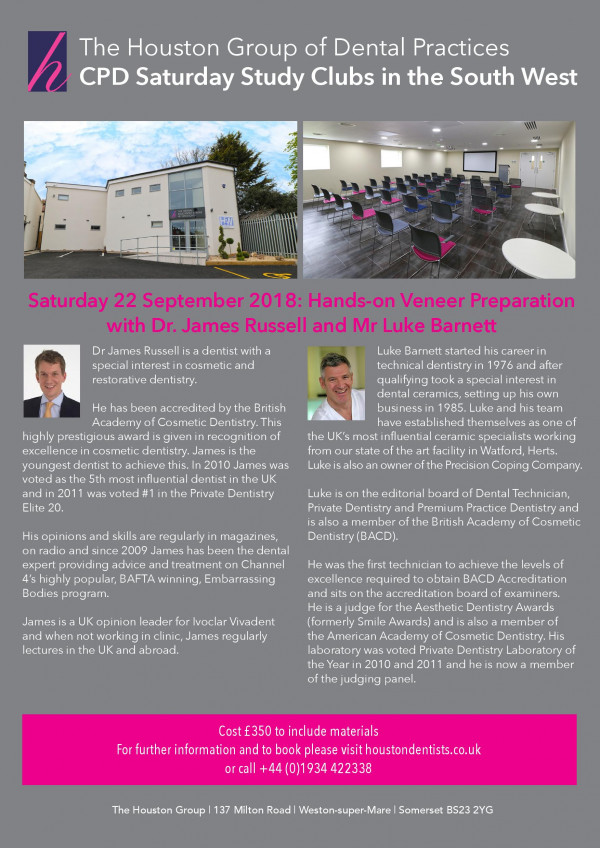 03.09.18 : Hands-On Anterior Indirect Aesthetic Dentistry
If you are based in the South West and looking to brush up on your theoretical and practical skills then don't miss this course on Saturday 22nd September.
This one day course involves seminar presentations and hands-on exercises to enable delegates to understand the essential theory and practical skills required to deliver highly aesthetic anterior indirect restorations such as veneers and all ceramic crowns.
Techniques such as pre-alignment will also be covered to ensure an ethical approach to treatment planning. Both the clinical and technical aspects will be discussed to enable delegates to understand the entire workflow, both analogue and digital.
The course will cover:
Smile Design Theory
Occlusion considerations
Pre-alignment techniques
Preparation techniques (lecture and hands-on)
Temporisation techniques (lecture and hands-on)
Laboratory stages from design to production
Cementation techniques (lecture and hands-on)
VENUE:
THE DENTAL EDUCATION CENTRE @ THE HOUSTON GROUP OF DENTAL
PRACTICES,
137 MILTON ROAD,
WESTON-SUPER-MARE,
NORTH SOMERSET.
BS23 2YG
COURSE FEE: £350.00 – Full day Course
(6 HOURS OF VERIFIABLE C.P.D.)
IF YOU WOULD LIKE TO BOOK PLEASE VISIT:
https://houstondentists.co.uk/professional/courses/saturday-22nd-september-2018/